Kislak Mother and Daughter Team Broker Parcel Acquisition in South Orange, NJ
By Steve Lubetkin | New Jersey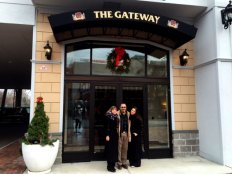 SOUTH ORANGE, NJ–EEA Industries, LLC, in an ongoing commitment to the revitalization of South Orange Village, has acquired a half-acre redevelopment parcel for $2.2 million, encompassing 110-120 West South Orange Avenue and 10 Church Street. A mother and daughter sales team from The Kislak Company joined forces to represent buyer and seller in the transaction.
The land is across South Orange Avenue from The Gateway, EEA Industries' highly acclaimed mixed-use luxury apartment and retail complex.
Joni Sweetwood, a Kislak senior vice president and sales associate, represented him in the deal. Sweetwoodpreviously represented Ayuso in the purchase of the land on which The Gateway was developed, and in the purchase of two Church Street properties that were successfully redeveloped and sold as condominiums.
Another Kislak sales associate, Julie Gralla, represented the seller – the two met and worked together on a prior deal when Gralla represented both parties. Coincidentally, Sweetwood, a veteran producer, and Gralla, a rising star, are mother and daughter.
Ayuso says he has been working with Kislak since his first South Orange project in about 2001, and he had high praise for Joni, Julie, Kislak president Rob Holland, and the Kislak team.
"Joni is very professional, focused and thorough, and they are all very personal in their approach," says Ayuso. "They get involved and really care about the people, not just the deal. Kislakunderstands that when we all work together – brokers, developers, the village and the community – everyone benefits."
"It is wonderful to work with Ed and to play a role in the resurgence of South Orange," says Sweetwood. "He is truly a pioneer and his vision and dedication are transforming the village. We look forward to more exciting projects in the future."
Click here to see the article on GlobeSt.com
Back to Projects