New Jersey Celebrates 350 Years By Popping Up on Main Streets State Wide
In 2014, New Jersey turned 350 years old. As a way to celebrate this historic year, Main Street New Jersey Executive Director Jef Buehler wanted to create something that both celebrated New Jersey's history as well as would create economic impact across the state. The result was NJ350 Pop-Up Program, a year long initiative that developed various pop-up stores throughout the state over the course of 2014.
"The purpose of the NJ350 Pop-Up Program was to provide hands-on proof of an effective retail concept for participating communities.  By providing a theme – NJ350 – and ready-made, Pop-Up inventory, signage, marketing and more, many of the start-up barriers to a developing a Pop-Up were removed. This made the program easier to implement in each of our participating fourteen communities, with fifteen total stores having participated," shared Buehler."
What followed exceeded Buehler's expectations. 89% of the empty retail spaces used as pop-up locations were rented by the end of 2014, and half of the participating communities have created or are in the process of creating pop-up programs within their districts. Additionally, a total of 13 out of 14 participating communities have new leases and/or new programs as a result of this project, with the 14th being in a State of New Jersey building.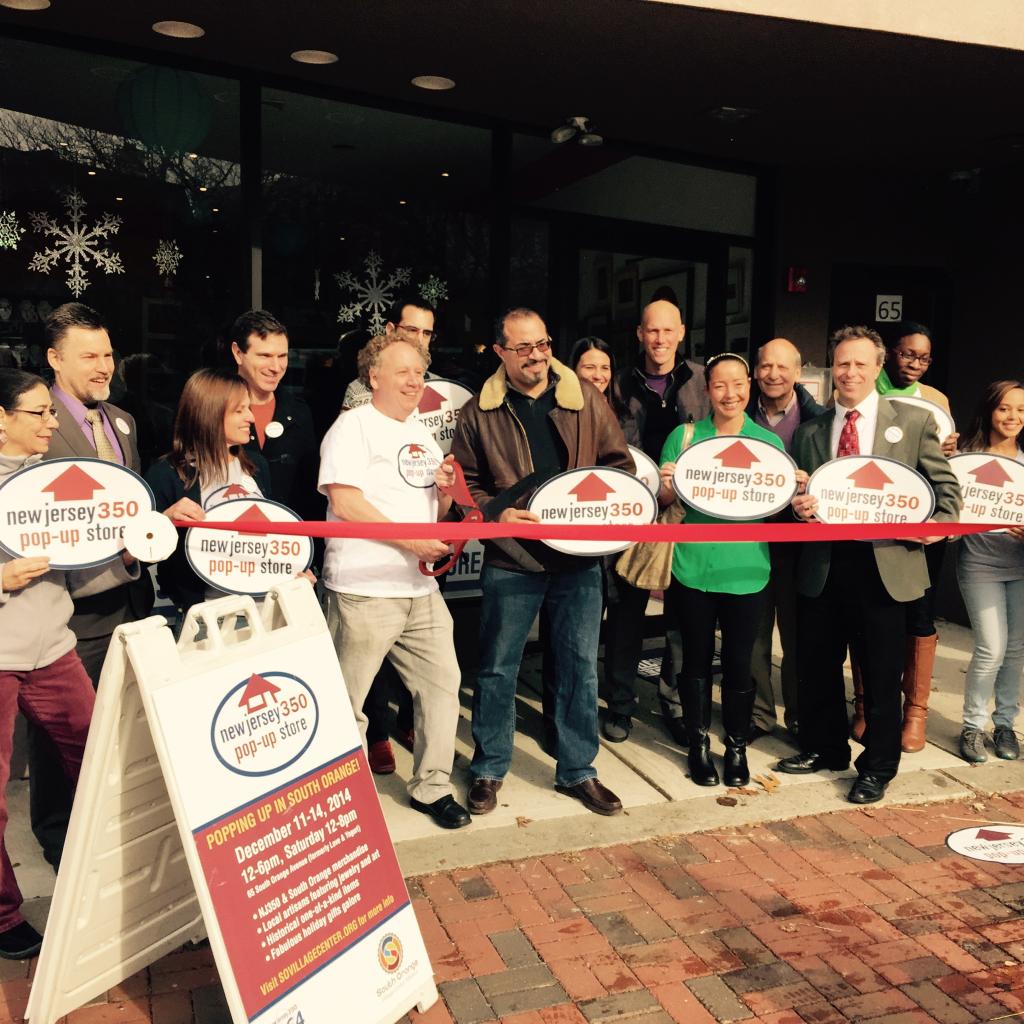 A Firsthand Look 
Bringing to life fifteen pop-up stores is no easy task, however as it turns out, when planned and organized in advance it can come to life a lot easier than it may appear.
Main Street New Jersey provided participating communities the store fit-out, a Point-of-Sale system, exterior and interior signage, staff training, wayfinding signage, social/traditional media management, state and NJ350 specific related merchandise, transportation and loading/unloading support, marketing and merchandising suggestions, and a how-to handbook that was updated after every pop-up to reflect new lessons learned. The local communities hosting each pop-up provided the store space, insurance, staffing, local merchandise, micro-events, and additional social/traditional media. As for costs?
"This project required sweat equity from Main Street New Jersey, which included the production of NJ 350 merchandise valued at $5,000 and printing of promotional signage valued at $1,500.  All other costs were met through in-kind donations, totaling $74,450, and local program investments of $2,000. 89.8% of the resources were all lined up through private and public partnerships working with a host of local, state, national and international sponsors, including IKEA , vend POS, SnapRetail, StoreSigns.com, Alignable, Independent We Stand, Island of Jersey and ITO Design," Buehler explains.
Clearly production costs were greatly reduced thanks to generous sponsors and supporters, but were the efforts of all involved worth the experience? Bob Zuckerman, Executive Director of South Orange Village Center Alliance, a Main Street New Jersey member, believes yes – absolutely.
"The store achieved several important goals for us.  First, it brought our community together. Shoppers came into the store carrying with them a real sense of civic pride as being residents of both South Orange and New Jersey. Second, it allowed us to demonstrate that we can turn a vacant storefront into something that is beneficial for our district which helps us activate our streetscape. Third, it allows our relatively new organization to continue to brand ourselves in a way that permeates throughout the community. And finally, but most importantly, it provides us with a real story to tell as we seek to recruit other businesses to come to our town: that there is a huge, pent up demand for additional retail in South Orange."  Bob Zuckerman, Ex. Dir. South Orange Village Center Alliance"
Expanding on this is Luther Flurry, Executive Director of Montclair Center BID – another New Jersey Main Street Member.
In my dozen years with the Montclair Center BID and Main Street, I have seen and heard of many successful initiatives. This, however, is the first I have seen that is thoroughly innovative and has made a statewide impact," shared Flurry.
Main Street Success 
Although five snow and ice storms impacted the anticipated crowds in the first two pop-up locations in 2014, a total of $62,823.87 in sales with 4,133 items purchased took place throughout the year. At least 6,118 visitors came through the pop-up doors and 211 local independent businesses participated in the program. Additionally, the NJ350 Pop-Up Store Program was highlighted at least 67 times in traditional media and spread to over 190,000 people via social media.  Articles about the NJ350 Pop-Up Stores were written by regional newspapers, national retail publications and a host of local media outlets. The stores were featured twice on network television and once on syndicated radio.  Combined, the New Jersey Main Street team estimates the program created over 7 million media impressions over a 12-month period. For a pop-up program that exhausted only part-time efforts, this is impressively strong.
With local communities and state level groups alike gaining added visibility, increased consumer engagement and economic strength, it looks like a pop-up program should pop-up again and again. Could this be the new recipe for Main Street success?
"Customers came, press came and economic growth occurred. It's definitely an initiative we'll refer to again and hope other communities can learn from, as well," shares Buehler."
Click here to read the full article on Forbes.com
Back to Projects