South Orange apartment sale sets per-unit price mark, Kislak says
NJBiz : Real Estate
By Joshua Burd, August 12, 2016 at 12:24 PM
The Gateway, 9 W. South Orange Ave., South Orange.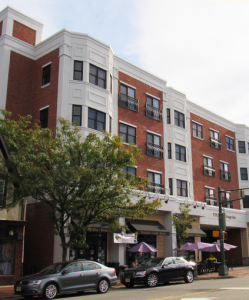 A private investor has paid nearly $33 million to acquire a 2-year-old, 57-unit luxury apartment community in downtown South Orange, in a deal brokered by The Kislak Co. Inc.
The brokerage announced Friday that it had represented the sellers and purchasers of The Gateway, in a deal that it says has exceeded the previous per-unit record for a multifamily sale in Essex County. The property also includes 9,000 square feet of retail space, sitting at 9 W. South Orange Ave. immediately west of the South Orange train station.
Kislak Senior Vice President Joni Sweetwood marketed the property exclusively on behalf of EEA Industries LLC and Soundview Real Estate Partners, along with their affiliates, South Orange Commons Tenant LLC and South Orange Commons III Urban Renewal LLC. Sweetwood and sales associate Julie Gralla represented the buyer, a private investor.
"From start to finish, this was an extraordinary project and sale," Edward Ayuso II, the founder and principal of EEA Industries, said in a prepared statement. "Joni and her colleagues were very helpful, professional and 'hands-on' with whatever we needed from when we acquired the land in 2011, through the development process and culminating in this record sale.
"My partners and I are very pleased with the results and are committed to remaining in South Orange and being a part of its continued renaissance over the next few years."
The property, which sold for nearly $32.8 million, was previously a shuttered car dealer that had sat vacant for years in South Orange. When Ayuso purchased the land for The Gateway in 2011, Sweetwood was his broker.
"Following the success of the nearby South Orange Performing Arts Center, Ed and his team helped to further transform the area and created opportunities for other developers with new apartments, restaurants and commercial space," Sweetwood said. "I am proud of our accomplishments and look forward to working together on many more transactions."
"Growing up in South Orange, it is exciting to see how much it has changed and improved in recent years," Gralla said. "The Village has become like Hoboken, where I currently live, and is also attracting local and national investors and developers. I have known the purchaser since I started in the business and knew, based on his vision, that he would be perfect buyer for The Gateway."
Click here to view the full article on NJBiz
Back to Projects